Scotland and Ireland are both island nations and for whom trade with the European continent is vital. Brexit saw preparations made by the Republic of Ireland with increased ferry capacity and new routes to the continent established.
Meanwhile in Scotland, where maritime transport is the responsibility of the Scottish Government, no steps were taken to increase access, let alone restore the former service from Rosyth to Zeebrugge that ceased in 2010.
Scottish exporters are at a distinct disadvantage in terms of cost and efficiency of getting their goods to market.
The lack of short sea shipping routes connecting Scotland with mainland Europe results in unnecessary lorry loads of goods travelling to English ports for onward shipment, adding extra expense and time to Scottish exporters.
Existing difficulties in accessing markets were thus compounded by customs and other complexities. Recent fuel shortages, again largely related to Brexit, have further worsened the situation for Scottish exporters.
Ireland
Ireland has five designated maritime routes into and out of Ireland – Dublin/Cherbourg and Rosslare/Fishguard, Pembroke, Cherbourg and Cork/Bilbao. These five designated routes were established to counter covid restrictions and continue the movement of goods, including food and medical supplies in and out of Ireland.
There are 10 ferry freight routes that connect the Republic of Ireland to France, UK, Belgium, Spain and the Netherlands. The most popular routes are Dublin to Rotterdam and Dublin to Zeebrugge, and these crossings can vary from twice weekly to four crossings weekly.
Three main operators offer passenger ferry routes from the Republic of Ireland. Brittany Ferries offer weekly sailings from Cork to Roscoff and from Rosslare to Roscoff, Bilbao and Cherbourg. Irish Ferries offer five weekly sailings from Dublin to Cherbourg. The Stena Line offers one route from Rosslare to Cherbourg which it runs three times weekly.
Scotland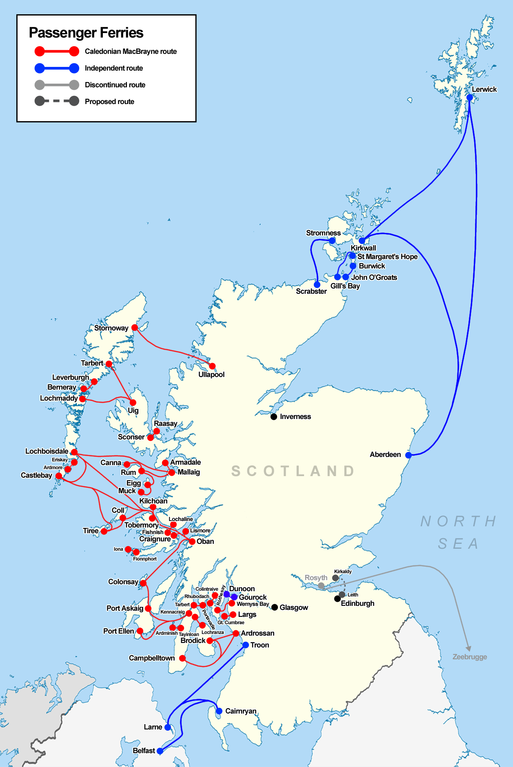 What should be happening in Scotland?
There's a need for a maritime strategy for Scotland overall that would link Scotland to its European markets as well as allowing for tourist travel in both directions. However, there's an urgent need for Scots imports and exports to be able to access Europe. As in Ireland, action needs to be taken in Scotland.
Reopening a route from Rosyth is the immediate step that should be taken, as the cost of fuel increases and driver shortages continue the cost-effective benefit of sea freight soars. Infrastructure is in place and even signage still exists on the road network for it. Supporting the restoration of a service or services to Europe is therefore essential. Longer term consideration should be given to other options such as Cockenzie which has an existing rail connection, as well as other ports.
In the interim though, the restoration of a service from Rosyth is essential and the Scottish Government must act to provide a maritime link for Scottish exporters to Europe. EU Motorway of the Sea funds are no longer available to Scotland, though they would be available to an EU continental port to apply for to support a Scottish link. The UK Government has a duty to provide funds to support a route that previously would have been available to receive aid from Europe. The Scottish Government currently support road and rail transport in a variety of ways and with direct subsidies in respect of the latter. But if Irish Government can take action to protect its exporters, so must Scotland's.