We grew up hearing about my mother's Scottish Sergeant, although we never knew his name or where he came from. My mother was born during the Second World War and lived in Deventer Netherlands with her parents and little sister at the end of the war.
When she turned four in 1944, she went to kindergarten for a month, until the street the building was hit by a stray V2 bomb. The last winter was especially hard; not much food was available for anyone and the occupiers were becoming increasingly oppressive and scary as the war wasn't going their way. These awful times became known as "de hongerwinter" or the hunger winter. Food drops originating from the already liberated South of the Netherlands formed a welcome respite every now and then.
They all slept in the cellar, as you had the best chance of surviving a bombing in a cellar. At least you could hope to get dug out if anything happened, and the cellars tended to be strong enough not to collapse.
Deventer's liberation brought along the sergeant
10 April 1945 arrived, and the 7th Canadian Infantry Brigade – including the Canadian Scottish Regiment – rolled into Deventer and liberated the city in a few hours. Thus, 10 April became Deventer liberation day.
The next day, my four-year-old mother met her Scottish Sergeant.
A lot of the men from the regiment had left families and children behind and seeing these youngsters who had grown up in the war, unfazed by tanks and friendly soldiers, they quickly each picked a child to look after during the day, to feed them up and keep them safe.
My mother's protector was her Scottish Sergeant (my aunt had a Canadian soldier).
The sergeant called her "Me Lassie" and allowed her to follow him around during the day. She would nap in the tank when she got tired (she told me there was always a soldier's lap to sleep in, with your face against the rough fabric of the uniform).
Enjoying baked beans with eau de petrol
The children were fed; mum remembers being told to "stand back, dinnae move, hands behind yer back." A few cans of baked beans would be lowered into a Jerry can of petrol, and the petrol set alight with a big whoosh. "Ye jumped, lassie, ye're still scared!" The cans were taken out with a large pair of pliers, opened and an egg was broken into each can, congealing immediately. And as soon as it had cooled down, each child adopted by that particular tank's men, got a can and a spoon and was told to "eat it all up!"
That wasn't always possible. After a winter of starvation the little ones couldn't cope with a lot of food. And if they really couldn't eat it all "ah weel, I will finish it."
Some days, there was a special treat after, depending on the soldiers' supply line. A small piece of chocolate, a piece of white bread with sugar! A novelty for many of the children.
For years, my mother would say she had never found "white beans in tomato sauce" like the Sergeant gave them, until I brought a can of actual "baked beans" over from the UK. That was it, that was the taste she remembered, even if the taste of petrol was missing.
She would spend the day with the liberators, be fed at the end of the day, and then the children were taken home.
Sometimes the men helped bathe them (hot water was only available for a short while each day, so the family had to wash clothes, dishes, and themselves in that short time).
Bath, full stomach, jammies on, some Scottish tickles (toe to chin tickles) and off to bed.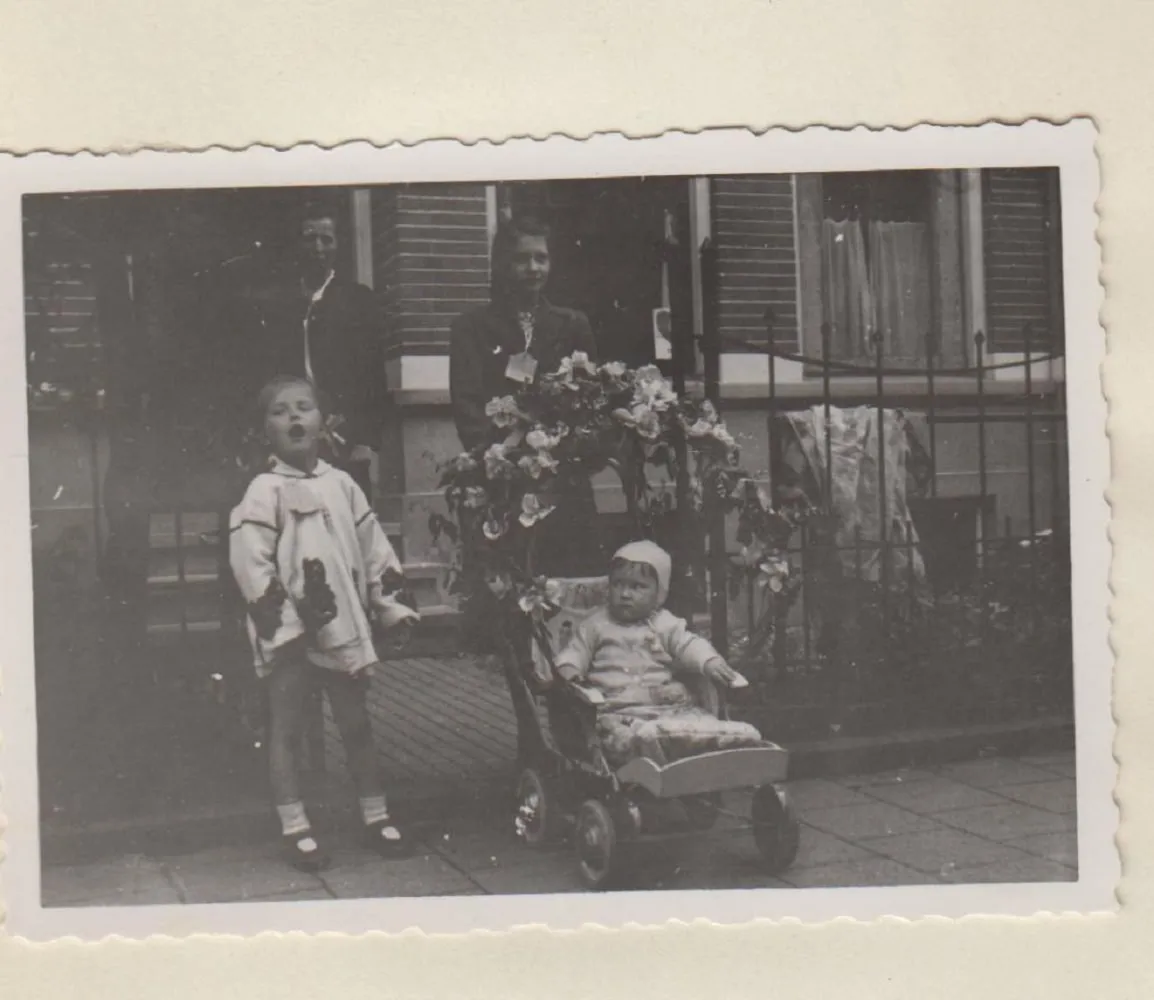 The true spirit of international humanitarianism
These men were not just soldiers; they were humanitarians. They instilled in these children the knowledge that people from other countries come to help you and look after you.
They even helped procure a manual wheelchair for my mother's neighbour, and mum and the neighbour's son Henk took the wheelchair over the (temporary) bridge over the IJssel to "test the wheelchair out for Henk's mum."
Faith in other nations was firmly restored, laying the foundation for closer international cooperation.
And for my mother it means that hearing a Scottish accent, especially when it is a man's voice, has always made her feel safe and cared for. Is it any wonder her second husband was Scottish?
My mother's Sergeant is still anonymous
We have tried to find a name for the Sergeant, but the Canadian Scottish Regiment has not kept any information on who was stationed where.
So, for us, he will always be the anonymous Scottish Sergeant who fed my mother baked beans and egg with petrol fumes. And, according to my grandmother, mum gained a few kilos in the weeks the Sergeant looked after her.
I will always be grateful to those who came to a foreign country, risked their lives, and liberated my family. Thank you, Scottish Sergeant!
---